The rising global demand for hosting events with utmost engagement and instructiveness boosts the need of integrating API with Event Platforms. Integrations between event management software and mobile event apps can undoubtedly help event planners streamline their processes and spend less time managing their technology. However, for an event planner, comprehending the technical side of integration might be frightening. The chaos and calamity can result from a lack of integration among event management solutions for event registration and ticketing. App integration is essential for the success of any event host and organization too, whether it be for one-time events or continuing activities.
Here in this blog, we are going to thoroughly explain why app integration is crucial in regard to event platforms and event management companies. So, let's get started.
Is it worth buying Instagram followers? Best Sites for Them
Why Is App Integration Crucial for Companies That Manage Events?
Integration is crucial for event management firms for a number of reasons. In the first place, it makes sure that everything goes off without a hitch. Event managers can quickly understand what's happening at every stage of the event planning process when all of the event platforms and tools are integrated with mobile event apps. They can then take action to avert difficulties via early detection of prospective issues. They avoid the frustration, suffering, and agony of having to hurry at the last minute to try to remedy things that went wrong.
Second, app integration allows companies that manage events to save time and money. when data is transferred automatically between different event platforms, saving time that would otherwise be spent manually moving data. It can save up a lot of time that would be better used for other things like coming up with an event strategy or coming up with new ideas.
Third, app integration offers a competitive advantage. Event management firms must have the flexibility to respond swiftly to changing circumstances in the fast-paced, ever-changing world of today. Event managers can view what's occurring across all of their software platforms with an integrated solution and make adjustments instantly.
Fourth, integration enables event management firms to give their customers a smooth experience. Customers always demand their event management business to operate at a high degree of coordination and communication. You must be able to meet their expectations if you want them to use you again for future event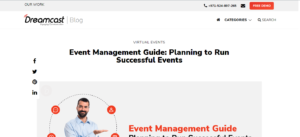 What are the advantages of social media marketing for any business? 
Which Types of App Integrations With Event Platforms Are Most Popular?
The systems that event planners most frequently incorporate their mobile app or event platform with are:
Websites for Event Registration
Event Ticketing
Localized Event Services (ex: check-in hardware, networking tools)
Association management systems or Customer Relationship Management (CRM) solutions (AMS)
Tools for Hotel and/or Travel Management
Tools for scheduling/booking personal meetings
Platforms for marketing automation and email marketing
These event software integrations can help you and your attendees in the following ways:
Integrations Of Popular Apps For Event Platforms
The majority of the top event platforms today offer direct integrations with streaming services, tools for event registration, and suppliers of mobile event apps. In an effort to improve user experience and boost productivity, some event platforms also link with well-known SaaS systems. Last but not least, businesses are becoming more data-savvy, and platforms are starting to combine analytics tools into a stack to provide greater insights to organizers, exhibitors, and sponsors.
Thinking About Ubersearch? Reasons Why It's Time To Stop!
Live Streaming Platforms
The pandemic altered everyone's perceptions of what a gathering should be like. For businesses, live streaming services that could provide the best user experience was a top priority. But with links to industry-leading technologies, many event platforms were already ahead of the game. Integrations between live streaming platforms are crucial for event planners because they can deliver content from live sessions.
Tools for Event Registration
Many event systems include features for online event registration. Secure payment processing, single sign-on (SSO), CRM/AMS connectivity, customisable branding, and waitlist management are all features that the perfect event registration application should have. And that isn't a complete list. Using a tool that has the essential capabilities to service the event stakeholders is recommended practice, even though some platforms enable interfaces to straightforward form builders, like Google Forms.
What to Do with Old Laptops in Your Garage?
Apps for Mobile Events
The possibility of a mobile event app that doesn't function or is difficult to use is one of the major hazards event planners must avoid. Event platforms must not only link with a mobile event app provider, but also with event applications that meet and surpass requirements for usability and functionality. Mobile events are important things to notice as they can break or make the whole user experience into valuable memory.
Platforms for SaaS
Some event platforms even incorporate well-known SaaS platforms to assist with a variety of tasks. For marketing, communication, document signing, and file storage, some platforms that are integrated are Salesforce, HubSpot, MailChimp, Slack, DocuSign, and Dropbox. Any event organizer choosing an event platform should research the platform's ability to employ these technologies since they can provide a variety of advantages.
Google Pixelbook 12in all features and specifications
Tools for Data Analytics
Data integrations shouldn't be viewed as a luxury by event planners; rather, they should be seen as a crucial component of their toolkit. For future events to be managed and planned effectively, data is essential. But from the perspective of the event planner, it's used for more than just shaping upcoming events. To maximize ROI and plan their upcoming showing efforts, exhibitors largely rely on reliable data. It's critical to have the ability to gather data now because big data is still in its infancy. With new ways to interpret organized and unstructured data, the advantages are likely to grow over time.
Integrations For Event Platforms In The Future
The greatest event platforms don't simply consider the integrations they can add today; they also consider how the event industry will develop in the future. Metaverse is one of the emergings that we will all be able to see in the near future. A method for bridging physical and virtual conferences could be the metaverse. The metaverse would enable participants to roam the floor and interact with exhibitors as though they were standing right next to them, as opposed to viewing a virtual trade fair on a desktop or smartphone app.
Examining how well event platforms are integrating current technology is the greatest method to make sure they are ready for future technological improvements. As we move towards a future filled with possibilities, it is crucial for event planners to consider a platform's present integration capabilities to understand how effectively it can grow.
Hope you like this blog and get some insightful information about event ticketing and registration integration in the event platforms and how it is necessary in recent times and the future too. Thank you for reading.