Puma, the iconic German sportswear brand, has been revolutionizing the sneaker industry for decades. Known for their impeccable blend of style, comfort, and performance, Puma sneakers have become a go-to choice for athletes, fashion enthusiasts, and sneaker heads alike. In this article, we delve into the world of Puma sneakers and explore what sets them apart from the competition.
A Legacy of Innovation:
Since its inception in 1948, Puma has continuously pushed the boundaries of sneaker design. The brand's commitment to innovation is evident in its extensive range of cutting-edge technologies that enhance performance. Whether it's the patented IGNITE foam cushioning system for responsive comfort or the TPU heel cage for stability, Puma constantly strives to provide athletes with the tools they need to excel in their respective fields.
Iconic Designs:
Puma sneakers have gained global recognition for their striking aesthetics and timeless designs. Collaborations with renowned designers and celebrities have resulted in iconic releases, including the Puma Suede, Puma Clyde, and Puma RS-X lines. These sneakers blend retro charm with contemporary flair, making them a versatile choice for both sportswear and streetwear. Puma's ability to effortlessly fuse style with functionality sets them apart from their competitors and ensures their sneakers remain highly sought after.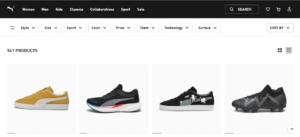 Unmatched Comfort:
One of the hallmarks of Puma sneakers is their exceptional comfort. The brand's dedication to ergonomic design and advanced cushioning technologies ensures a plush and supportive experience. Puma's proprietary Soft Foam sock liner provides optimal cushioning, while the engineered mesh uppers offer breathability and flexibility. Whether you're hitting the gym, going for a run, or simply walking around town, Puma sneakers deliver unmatched comfort throughout your day.
Sustainable Practices:
In an era where sustainability is paramount, Puma stands out as a responsible industry leader. The brand is committed to reducing its environmental impact through initiatives like the Puma x First Mile program, which supports local communities while creating sustainable products from recycled materials. Puma sneakers are increasingly incorporating eco-friendly materials and manufacturing processes, ensuring that style and sustainability go hand in hand.
Accessibility for All:
Puma understands the importance of inclusivity and strives to cater to diverse consumer needs. The brand offers a wide range of sizes and widths, ensuring that everyone can find a comfortable fit. Additionally, Puma collaborates with athletes and influencers from various backgrounds, promoting representation and celebrating individuality.
Final Verdict:
Puma sneakers have earned their place among the footwear elite, blending style, comfort, and performance seamlessly. With a rich legacy of innovation, iconic designs, and a commitment to sustainability and inclusivity, Puma continues to captivate sneaker enthusiasts around the world. Whether you're an athlete seeking top-notch performance or a fashion-forward individual, Puma sneakers are sure to elevate your style and take you further. As you know puma is one of the popular sneaker producer in the world So get your self up to date for new styles of puma. We always producing new style on every years according to the trend and comfortable of people thinks with a large number of different color and schemes.